Return to Headlines
Masco Students Excel in DECA Competition
THE MASCO DECA CLUB COMPETED IN ITS FIRST EVER DISTRICT COMPETITION HELD AT MERRIMACK COLLEGE ON THURSDAY. COMPETING AGAINST EIGHT OTHER SCHOOLS IN 15 DIFFERENT BUSINESS CATEGORIES, WINNERS FOR MASCO WERE: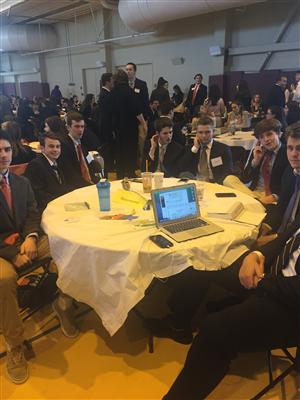 FIRST PLACE:
KYLE FADDIS
SOPHIA GARDNER
DAVID HUNTER
KILEY LOMBARDI
KAITLIN MAJESKI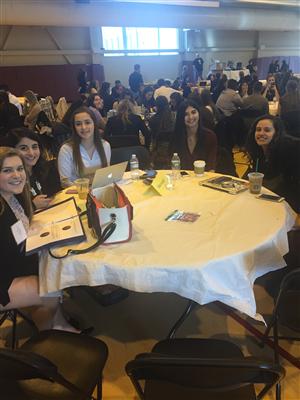 SECOND PLACE:
MADISON BROOKE
LILY KOENIG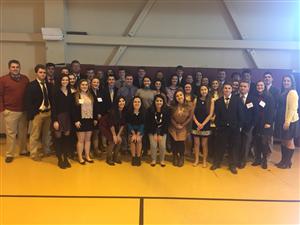 THIRD PLACE:
LUKE HOSMAN
JULIA ROMBULT
KATE GAFFEY
NICOLE VILLANI
LEXI LOMBARA
FOURTH PLACE:
ALEXA IDE
ANDREAS LANTZAKIS
PATRICK CORCORAN
FIFTH PLACE:
TESSA BETTANO
LEXI LOMBARA
GABRIELLA MCSWEENEY
WINNERS ARE ELIGIBLE TO COMPETE IN THE STATE FINALS TO BE HELD IN MARCH IN BOSTON.
CONGRATULATIONS TO ALL MEMBERS OF THE DECA CLUB WHO COMPETED.

With nearly a 70-year history, DECA has impacted the lives of more than ten million students, educators, school administrators and business professionals since it was founded in 1946. Their strong connection with our organization has resonated into a brand that people identify as a remarkable experience in the preparation of emerging leaders and entrepreneurs. DECA's programs and activities have constantly evolved as we use the latest technology and apply cutting edge educational research. Our core focus has remained consistent and is captured in our mission.
215,000 Members
3500 High School Chapters
275 Collegiate Chapters
5500 Advisors
DECA is organized into two unique student divisions each with programs designed to address the learning styles, interest and focus of its members. The High School Division includes 200,000 members in 3,500 schools. The Collegiate Division includes over 15,000 members in 275 colleges and universities.
DECA Inc. is a 501(c)(3) not-for-profit student organization with more than 215,000 members in all 50 United States, the District of Columbia, Canada, China, Germany, Guam, Mexico, Puerto Rico and Spain. The United States Congress, the United States Department of Education and state, district and international departments of education authorize DECA's programs.