Posted by Peter Delani on 1/10/2019 12:00:00 PM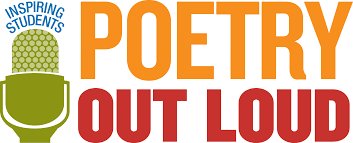 On January 4, twenty-five high school students competed in Masco's 13th annual Poetry Out Loud competition. Poetry Out Loud is a national recitation contest sponsored by the National Endowment for the Arts and the Poetry Foundation. The tiered contest begins at the classroom level, with each student memorizing a poem from the thousands available on the Poetry Out Loud website, including poems by authors as classic as John Donne and as contemporary as Fatimah Asghar. Based on criteria such as physical presence, voice and articulation, accuracy, and evidence of understanding, one winner from each classroom advances to the school competition, where contestants recite two poems. Congratulations to all who participated in this year's contest.
Guest judges and local authors Bonnie Bishop, Conrad Squires, David Donavel, and Meagan Hildebrand were faced with the difficult task of choosing just one of these outstanding performers to send to the state semifinals in March. Coming in third was veteran contestant Fridahan Basame. Tracy Weener's dramatic recitations landed her a second place spot. After a fierce competition, Sophia Kwiatek earned her a first place victory. Sophia has already proven her grasp of the complexities of love and loss with her first two poems. She will learn a third poem in preparation for state semifinals, state finals, and possibly nationals, where contestants have the potential to win tens of thousands of dollars in prize money. We wish Sophia Kwiatek all the best as she moves forward!
MASCO POETRY OUT LOUD WINNER SOPHIA KWIATEK