Masco Teachers Present Essex County History Project at NERC Conference
Posted by Peter Delani on 3/19/2019 7:00:00 AM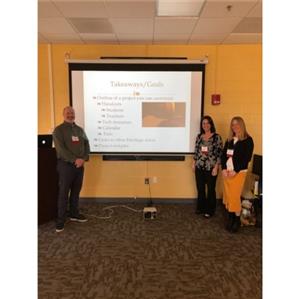 Masconomet High School Teachers Pete Magner, Kim Marini, and Ellen Sheehy presented on the Essex County History Project at the 49th Annual Northeast Regional Conference for the Social Studies at Framingham State. Their presentation was amazing and well received! Congratulations!!!
Workshop Description:
The Masconomet Social Studies Department has implemented a semester long project to coincide with the study of American History. The objective of the project is to encourage students to research history "in their own backyards" and place local historical sites in context of the social, economic, and political development of Essex County, and, by extension, the United States. Using Essex County Heritage Commission and Essex National Heritage Area as a starting point, students are expected to choose an historical site located in Essex County to visit, research, and write about, with the culminating product involving the creation of a brief documentary film about the site. The focus of the project may vary by student. Some may be interested in a major event related to the site. Others may want to explore the architecture and styles that developed during the time period. Students also may want to tell the story of the family who lived in an historic house and how those people played a role in the region. The workshop will be led to two teachers who have developed and implemented the project in their classes. They will discuss how the project has evolved over the years and offer suggestions for teachers to develop similar projects in their districts.