Ban on Vaping Product Sales
Posted by Peter Delani on 9/25/2019 1:15:00 PM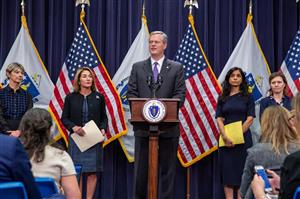 BOSTON — Governor Charlie Baker declared a public health emergency in response to confirmed and suspected cases of severe lung disease associated with the use of e-cigarettes and marijuana vaping products in the Commonwealth. The Governor called for a temporary four-month statewide ban on the sale of flavored and non-flavored vaping products in both retail stores and online. The sales ban applies to all vaping products and devices, including tobacco and marijuana. The ban takes effect immediately and lasts through January 25, 2020.
My Life, My Quit™ has youth coach specialists trained to help young people by phone or text. Call or text "Start My Quit" to 855-891-9989 for free and confidential help. For more information or to sign up online, visit mylifemyquit.com.
This is Quittingpowered by truth® is a free and confidential texting program for young people who vape. Young people can text "VapeFreeMass" to 88709 to get started. In partnership with the Massachusetts Department of Public Health.
Visit mass.gov/vaping to learn about vaping addiction, health, and quitting.