Graves' Sisters Highlighted in Boston Globe
Posted by Peter Delani on 10/3/2019 6:00:00 AM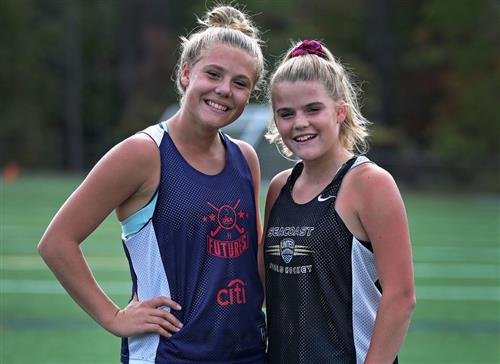 Makayla and Julia Graves are still getting used to seeing each other all the time.
Last fall, as an eighth-grader at Masconomet Regional Middle School, Julia played in the youth field hockey program. At the same time, Mak was helping propel the Masco varsity as a junior to the Division 1 North title, recording 13 goals and 14 assists and earning Globe All-Scholastic honors.
As soon as Mak arrived home from her practices and games, settling in to do her homework, Julia would head off to her own practices. The sisters were on opposite schedules, but with three years separating the two, it was something they had grown accustomed to.
Now, with Mak a senior and Julia finally at the high school as a freshman, the Topsfield residents are playing on the same team for the first time.
"I just wouldn't see her as much," said Mak, who at 17 is the oldest of the four Graves children (Julia is 14, Sarah is 11, and Sam is 7).
"Now, I'm driving her to school, to practice, and home from practice. We're around each other a lot more, and it's definitely brought us closer."
Mak and Julia are midfielders, and in preseason scrimmages and early games they were playing alongside each other. Having that familiar face helped Julia adjust quickly to varsity field hockey.
"The first time we played together, I was 100 percent nervous," Julia said. "I felt like I hadn't played field hockey before. But once the game started going, I could see Mak and what she was doing. It kind of flowed and then I knew what I was doing."
Mak said that Julia loves being a part of the program.
"She goes into practice and works hard each and every day," she said. "She was definitely nervous at first, but when she got past the first tryout day, she settled right in there."
Though she's wearing the Masconomet jersey for the first time, Julia has been around the program since Mak started playing on varsity as a freshman, watching the games and cheering on the team she would one day join.
"If Mak was playing, Julia was on the sidelines last year watching," said Masconomet coach Maggie Bridgeo. "It just feels normal having her. We've never not had her. And they're such a great team. They get along really well."
Now that she's finally alongside her sister and on the team she's dreamed of being on for years, Julia Graves has something she wants to accomplish.
"I'm very thankful to be a part of this program, because I've adored watching this program for so long," Julia said. "Watching Mak for the past three years, I had that passion. I wanted to be on the team. Now that they were D1 North champs last year, my goal is to make that happen for Mak's last year."