Masconomet HS Student Council Members Cheer on Elementary School Students
Posted by Peter Delani on 10/9/2019 1:00:00 PM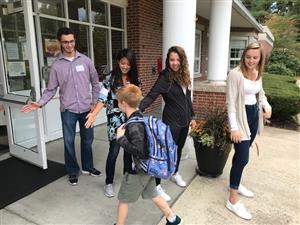 Members of the Masconomet High School Student Council participated in the K-12 Kindness Campaign by welcoming and cheering on elementary school students in Boxford as they came to school at the Spofford and Cole Elementary Schools on Tuesday and Wednesday. Masconomet School Committee Member Bonnie Thornborough reported:
"Our Spofford Pond elementary students were absolutely BEAMING this morning! And I can't rave enough about how perfectly cool and uplifting the Masco students were. This was a powerful Act of Kindness, and they made it so fun!
Greeting each child with a genuinely happy greeting, connecting with them in that moment, and wishing them an awesome day… It was so impactful and meaningful for our kiddos, especially coming from those big kids they look up to! Their smiles were so big!
And having them see those big Masco kids modeling such breezy, spirited, fun-loving kindness ~ it was a really happy morning that is sure to make a positive difference.
I know this may sound cheesy (don't tell my kids I said this) 😃, but I couldn't help seeing them as super-heroes… They have these great powers, just by being cool Masco students~ and they put that power to such good use. Plus they looked like super-heroes, too ~ with capes and stars and stripes and face-paint! Haha!"