Masco Freshmen & Peer Leaders Raise over $25K for Ronald McDonald House!
Posted by Peter Delani on 10/21/2019 9:00:00 AM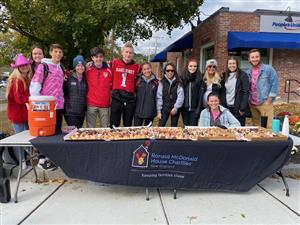 This past Friday, October 18th, the Class of 2023 and the Peer Leaders participated in our annual Freshman Walk, a 6-mile charity walk through the Tri-Town. This year, we challenged the students of Masconomet to "think beyond" themselves and we began a community partnership with the Ronald McDonald House at Boston Harbor. The RMH Boston Harbor alleviates the financial burden of housing accommodations by providing private, one-bedroom apartments at no cost to families who are traveling to Boston, from all over the world, seeking critical medical care for their child. The Class of 2023 and the Peer Leaders worked hard throughout the end of September and beginning of October holding local bake sales, going door to door, asking families and friends, and local business to support their fundraising efforts which benefited the RMH. Because of the hard work from our students and the Masconomet community, we raised a total of $25,624.41 to date. Money is expected to fund around 6 months of accommodations at the RMH! We are so proud of all that our students accomplished, and seeing them rally together to achieve this goal is just a small piece of what makes our community at Masco so special.
Special recognition to our top three Freshman earners: Henry Liu ($1,056), Sophia Huang ($369), Connor Thompson ($285).
Also to the Topsfield Bake Shop for their generous donation of Whoopie Pies from the Whoopie Wagon, to Topsfield House of Pizza for making 83 pizza for us, and to everyone who raised money or contributed to our cause, THANK YOU, we couldn't have done it without each and every one of you!