French Video Contest Winners
Posted by Peter Delani on 4/8/2021 2:30:00 PM
From Deidra Boucher, French Teacher;

The World Language Department is proud to announce that several Masco French students won top honors in a national video contest sponsored by the American Association of Teachers of French. Hundreds of students from across the country competed in the contest. Participants had to write, film, and produce an original video in French about the theme "Everything is Possible with French."
Four juniors were awarded first place recognition. Sarah McVey created a music video about the diversity in the Francophone world. Caroline Belanger's project featured the ways in which learning the French language has enriched her life. Sloane McLean and Eva Muller collaborated in their video, with a humorous take on how French can give you an advantage in your personal and professional lives.
Two sophomores were also awarded prizes. Evan Zeltsar received third place recognition for his film in which he played the role of a French teacher informing his student of all the benefits of learning French. Meghan Richard received an honorable mention for her film which was animated by hand and emphasized the importance of learning French.
First place winners received medals, and all students won certificates and a cash prize. Félicitations!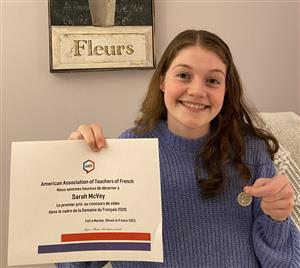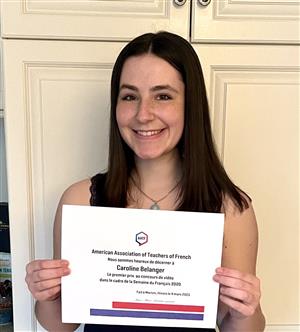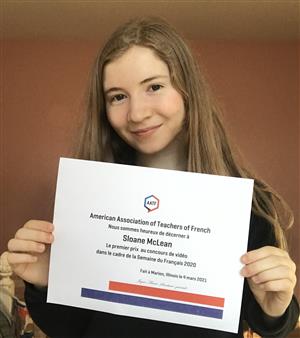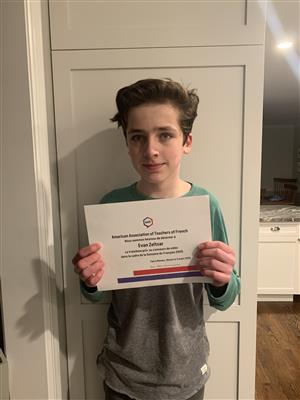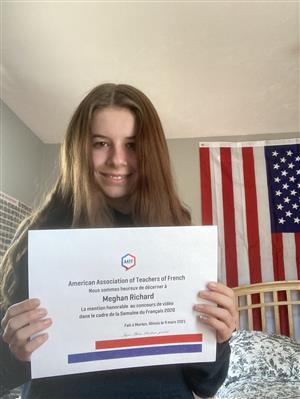 Pictured: Sarah McVey, Caroline Belanger, Sloane McLean, Evan Zeltsar, Meghan Richard, Eva Muller