08.12.2020 Meeting Summary
Posted by MSC on 8/14/2020
"If there's a silver lining in any of this, it may be that it gives us all a chance to reimagine things."
—Carolyn Miller, School Committee Chair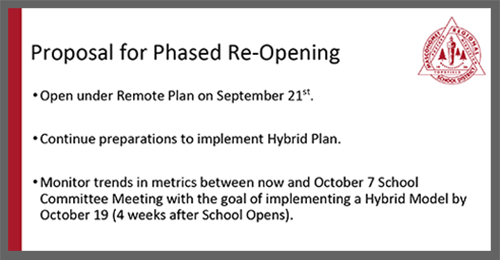 MEETING HIGHLIGHTS:
Public Comments/Questions Of note:
Attendance on the zoom meeting reached 350

Audience members asked questions about teachers, dynamics between the remote and hybrid models, building safety measures, safe behavior outside of school, hands-on/physical classes, community service and mental health

The committee also shared an overview of the aggregated questions coming in from the community questions survey (below), highlighting academic rigor and accountability, safety concerns, mental health concerns, sports, college planning, among many others

This

two-question community survey

continues to be available where parents, students and staff can ask their most pressing questions. These questions are being organized and answered (as answers become known) in regular school committee update meetings, and a community forum to be scheduled soon.
Dr. Harvey presented a Recommendation:
School Committee Members Deliberated, highlights include:
Shared desire for students to have connections with teachers and each other

Shared concerns about mental health

Empathy with families who want kids back in building

Realizations from bus/building tours of different school environment and multiple layers of challenges in ensuring safety

Realization of extreme challenges to collaboration/interaction in physical classroom with new protocols

Recognition of interaction and learning in different ways

State COVID19 map as just one factor among many from DESE

Remote schedule's WIN block ("What I Need")

Flipped classroom concept

Advantage of time in remote schedule for online student training about hybrid protocols, procedures
Reopening Plan Votes
Unanimous approval of presented reopening plan for DESE

10-1 in favor of starting this school year in the Remote Model on September 21, with review of conditions on October 7, toward goal of phasing into Hybrid Model October 19
Further notes can be found in the Summary Notes* from the 08/12/2020 meeting. *These are not meeting minutes and not intended to be a transcription of the meeting.
VIDEO REFERENCES
8/10/20 Working Session Video (3:44:00 total)
8/12/20 School Committee Meeting (2:03:53 total; see video time markers below)
0:00:00 Committee Chair Opening Remarks

0:05:40 Community Member Questions

0:33:50 Reopening Plan Summary and Recommendations

0:49:17 Committee Questions and Answers

1:11:45 Committee Deliberations
District highlights:
Community resources:
NEXT SC Meeting:
Our next regular School Committee meeting will be Wednesday, September 2 at 7pm
Meeting agendas, minutes, documents, and videos are posted on-line at: https://www.masconomet.org/domain/41