Posted by MSC on 10/9/2020
"Job number one is to do what's in the best interest of our students."
—Superintendent Mike Harvey, about FFCRA and teacher accommodations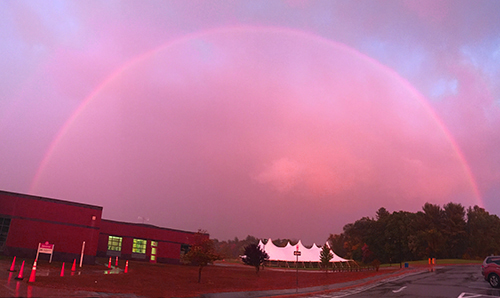 The famed Oct. 7 rainbow over Masconomet just before the School Committee meeting
Meeting highlights:
The committee voted unanimously to implement the school's Hybrid Learning Plan on Monday, October 19, 2020.

View Dr. Harvey's

announcement to our community

about next steps

HS Principal Pete Delani led a

discussion

on:

classes, sports and clubs off to a great start

positive feedback on remote learning and its schedule

the WIN block "protects the academic integrity of the class times"

imagining unimagined spaces and Vision 2025

Assistant Superintendent Jeff Sands presented a

FY21 Financial Update

Discussion on the laws, ethics, educational impact and financial impact of providing accommodations to employees

In a pandemic, the need for such school staff increases, and is supported by the same state and federal laws that apply to all employers of 50-500 employees

In any non-remote model, a teacher not physically in a classroom is filled by an alternate employee (substitute, paraprofessional, proctor, etc.)

Reasons (any time) can include illness, family, physical/mental health care, quarantine, meetings, etc.

Employing accommodations that allow our highly-qualified teachers to continue teaching our students is the most responsible solution for

our students' education

our employees

our finances

our vision

Policy, Anti-racism, and Community Relations subcommittees are meeting regularly

The committee expressed gratitude for our student SAB representatives; Senior rep. Liv Dunham shared questions and student feedback on current and proposed learning models - available in summary notes

This

two-question community survey

continues to be available where parents, students and staff can ask their most pressing questions.
Further notes can be found in the Summary Notes* from the 10/07/2020 meeting. *These are not meeting minutes and not intended to be a transcription of the meeting.
District highlights:
Community resources:
TriTown Council

is hosting a

Parent Program: "The Secret Life of Tweens & Teens" - A 2-part interactive program with licensed therapist Jon Mattleman on Tuesday, October 15 & 22, 7:00-8:00pm

(See a

ttached flyer

for more info and webinar registration)

SEPAC

is an excellent support resource for families. Follow them on facebook!

School Committee meetings

: Due to covid-19 limitations on in-person meetings, public comments must be submitted in writing to our Chair by noon the day of a meeting. Watch our meetings live or

recorded

. Email questions, comments or concerns to the committee Chair, Carolyn Miller, at

cmiller@masconomet.org
NEXT SC Meeting:
Our next regular School Committee meeting will be Wednesday, October 21
Meeting agendas, minutes, documents, and videos are posted on-line at: https://www.masconomet.org/domain/41