Posted by MSC on 1/6/2022
"I've been impressed with how the classes are still going and picking right back up from where we were before break, even with lots of teachers being absent. …. Before the whole pandemic, I didn't know how many online resources Masco offers, so switching to that remote model {last year} allowed more students to know how to access more information on their own, and on the other end it allows teachers to put out assignments online and creates a much easier back and forth between the students and teachers, which allows us to get more done - so I think it makes it more seamless now" - Student Advisory Board Representative Stella Nagle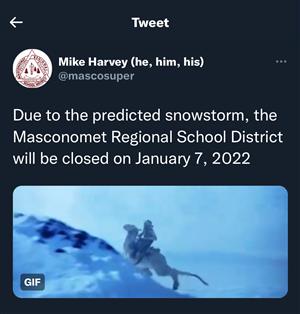 *These are not meeting minutes and are not intended to be a transcription of the meeting.
Remarks from the Chair

. Zillie Bhuju

thanked administrators and staff for the extra work involved in being able to reopen school this week, amidst this new phase of the pandemic. She went on to note that the current situation is yet another reminder of how individual choices and individual behaviors can impact entire systems and entire communities. For example, as bad as things are, if we had a lower rate of vaccination, we would be in a much worse situation right now. She thanked those who are taking their part seriously for the sake of our community – for the people within our schools, for our teachers, for the families of our students and staff, and for the health care systems that we all count on. This is how we show we care for one another. Our individual choices and behaviors make a difference.
Comments from the Audience.

Trevor Currier asked about the status of the mask mandate. As was shared at the previous meeting, the district applied for a waiver in December after meeting the 80% threshold. DESE approved it on December 17th. However, the Boxford Board of Health's (BoH) mask mandate remains in place, and our public school buildings are under the Boxford BOH's jurisdiction.
Masconomet Teachers Union Negotiations

. The School Committee and the MTA have continued to make progress in the negotiation and have been in communication as recently as today. We look forward to completing our negotiations.
High School Principal's Report

. Dr. Mary Jo Carabatsos confirmed that mid-term exams have been cancelled, a decision was based on concerns about student mental health and anticipated absences due to COVID. She reviewed the School Improvement Plan, available online

here

, which she has been working on with the School Council and faculty. The plan centers on three strategic objectives: School Climate and Culture; Student-specific Supports and Instruction to All Students; and Curriculum, Instructor, and Educator Growth. Dr. Carabatsos also spoke about the efforts being made within new and existing programs designed to address both social/emotional and academic concerns arising from COVID.
Student Advisory Board Update

. SAB representative Stella Nagle thanked the administration, faculty, and staff for everything they have been doing to keep everyone in school. She reported that students are relieved by the cancellation of mid-term exams, preparation for which had been causing a lot of extra stress given the latest surge of covid cases. It was noted that the tools and skills gained from remote teaching & learning are being well utilized by both students and teachers to help stay on track through blackboard and other online apps during absences.
Financial Update

.

Assistant Superintendent Jeff Sands reported that we are currently on track to finish the fiscal year in a favorable position, i.e., under budget. This forecast report reflects a mid-point for this fiscal year and can be viewed

here

.
Superintendent's Update.

Dr. Harvey provided a detailed update, which is available via his January 6th blog post,

here

. During the discussion, Dr. Harvey talked about the increasing difficulty of maintaining an accurate picture of the percentage of positive cases in the Masco community. The administration continues to conduct contact tracing on positive cases that are either a) resulting from a PCR test and reported through the Department of Public Health b) identified through the test and stay program. Self-administered antigen tests cannot be verified so contact tracing is therefore not possible for those. Individuals should still report those to the school. Regardless, cases are on the rise in our community.

We continue to look to the Department of Elementary and Secondary Education for guidance, and expect their update by January 15. Although Masconomet received a mask waiver, no changes should be anticipated at this time. As was stated at our December 15th meeting, discussion of possible changes would take place later in January at the earliest. The next steps involve hearing DESE's Jan 15th update and consulting with Boxford BoH. In the fall, Boxford BoH had stated that if Masco did not mandate masks for everyone, there must be a clearly enforceable plan to require masks for unvaccinated individuals. It is not prudent to pursue this question under the current conditions.
Subcommittees

. The Policy Subcommittee will meet on January 10th at 7:30PM. The Community Relations Subcommittee will meet on January 13th at 6:30PM, with the first 20 minutes reserved for a community discussion. The Budget Subcommittee will meet with the purpose of hearing from department heads on January 26th at 5:00PM.
Upcoming Meetings:
Please refer to the "Public Meetings" page on the Masconomet Website for a list of upcoming meetings and agendas. The next regular school committee meeting is scheduled for Wed, Jan 19, 2022.