Posted by MSC on 4/29/2022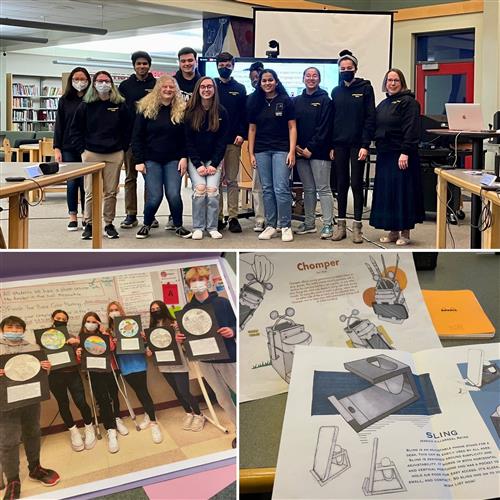 *These are not meeting minutes and are not intended to be a transcription of the meeting.
Chair's Remarks.

Chair Bhuju noted Teacher Appreciation week is next week (May 2-6), and recognized Joe Ciampa for his service, as he is retiring from the Committee after four years of service.

Public Comment.

A Middleton resident explained why they do not support amending Graduation Requirements to include the arts. Joe Ciampa expressed gratitude to the Committee members for their hard work.

Student Advisory Board

. Class of 2023 Representative Stella Nagle reported on end-of-year activities, including the TriTown Hero Awards (link here). She listed a few events as well as little day-to-day things happening lately that are making students feel positive about school and boosting morale. She said students are interested in clarification about the schedule for next year.

Washington, DC Field Trip

. Mrs. Rebecca Calzini proposed that the 8th grade field trip to Philadelphia and Washington, DC resume this year (November 2-5). The School Committee unanimously approved the proposal.

Vision 2025 Showcase.

Science Department Chair Tammy Fay spoke about all the amazing work happening in our Middle and High School science classrooms, including co-curricular learning (for example, projects that incorporate both science and art or history). She thanked the Masconomet Education Foundation for their support in purchasing equipment. Finally, she celebrated the 40+ members of the Masco Science Team, some of whom attended the School Committee meeting. We are proud of the Science Team's accomplishments.

Please enjoy the slides from the full presentation here

.

Financial Reporting

. Independent auditor James Guisti and District Accountant Laurie Zywiak and presented our FY21 Annual Audit Report. Mr. Guisti also submitted his annual Management Letter stating that in his opinion, "the financial statements represent fairly, in all material respects, the respective financial position" of the District. The documents can be found here:

Financial Statements for the Year Ended June 30, 2021

,

Final Audit FY21 Management Letter

. Mr. Guisti pointed to pages 12 and 13 of the Financial Statements as the best place to find an overview of the District's finances.

Middle School Principal Report

. Dr. McManus spoke about the many end of year activities being planned. We want to draw attention to the 6th grade Parents Night, scheduled for May 19th, and the 6th grade Masco tour and assembly on June 9th. You can review the report

here

.

ESSR II Grant Review.

Dr. Harvey and Jeff Sands, Assistant Superintendent of Finance and Operations, informed the committee of their updated plans for the ESSER II grant (one of the federal COVID relief grants). Changes include addition of two adjustment counselors, two Academic Success Center teachers, and operational/COVID supports (one MPFT and one IT technician), all of which will be two-year positions that help fulfill the pandemic-related purpose of this grant.

Last Day of School for Students.

The Committee voted to confirm June 23, 2022 (10:30am release), as the last day of school for students. Please be aware that there is no school on June 20th due to the Juneteenth holiday.

Graduation Requirements.

The Committee approved the addition of one year of visual/performing arts to our graduation requirements, beginning with the Class of 2026. The Committee also reviewed most of policy section B.

School Resource Officer Intermunicipal Agreements.

Approved for FY22 and FY23.

Subcommittees

. The Policy Subcommittee will meet on May 17th at 12:00 noon by Zoom. The Negotiations Subcommittee is meeting on May 2nd at 2:30pm at the District Administration building.

Town Meetings and elections.

Town Meetings are the final step in approving the Masconomet budget. Liaisons announced that Topsfield's Town Meeting (TM) will be Tuesday, May 3rd at 7pm in the Masco auditorium, and Topsfield elections are on Thursday May 5th; Boxford's TM will be Tuesday May 10th at 7pm in the Masco auditorium, and Boxford elections are Tuesday, May 17th; Middleton's TM will be Tuesday May 10th at 7pm in the Howe Manning gymnasium, and Middleton elections are Tuesday, May 17th.
Upcoming Meetings:
The next regular SC meeting is scheduled for May 25th. Please refer to the "Public Meetings" page on the Masconomet Website for a list of upcoming meetings and agendas. Note that all past meeting meetings and recordings are posted here