My Brief Experience Returning to College (Yesterday)
Posted by Kevin Lyons at 12/22/2016
It has been a long time since I sat in an undergraduate college classroom. It happened yesterday and it has been on my mind for the last 36 hours. At the invitation of the Masconomet High School Psychology Club, advised by Mr. Brian Mintz, this college classroom experience happened in the Masco HS Library from 3:00-4:30 p.m. Mr. Mintz and the Club invited Dr. Paul Whelan, a Dartmouth College Professor of Neuroscience, to give a lecture on his cutting-edge research into emotion and the human brain. Professor Whelan is a research specialist in anxiety, Post-Traumatic Stress Disorder (PTDS), and core human emotions. He is sub-specialized in a tiny part of the brain- the amygdala. He and his associates use MRI and Functional MRI (that shows changes in the brain as they happen) to study the relationship of the amygdala to the human regulation of emotion.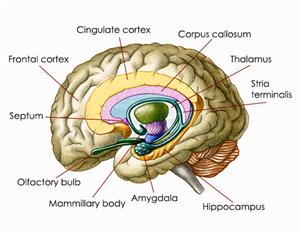 As I sat with 35 students and several faculty members, I was transported back to one of my best college classes when I felt like I was learning things that 99% of the world did not know about, taught by one of the foremost experts in the world. It was engaging, exciting, humorous, and filled with implications for me as an educator. How can I not learn much more about the brain when I am in the business of teaching and learning? I sat alongside our Masco students who, I quickly realized, knew much more about current brain research than I did. Humbling? Not really, as I know the quality and depth of our students' learning at Masco, I should not be surprised that I was a freshman among juniors and seniors. What a delight to feel like a teenager in love with learning in a group of like-minded individuals.
Professor Whelan didn't contain himself to just the lecture topics. He answered student questions about careers in psychology and in doing so shared his own experiences as an undergrad and graduate student. To paraphrase one tidbit of advice, he suggested that students should not worry about over-specializing in high school to get ready for a college major and that undergraduates should not over-specialize in getting into graduate school. From his perspective, he did not figure out what he wanted to do until well after he earned his Ph.D. He told students that is good to take some solid math, important to take at least a course in computer science, but otherwise, don't narrow your schooling and career options too early in life.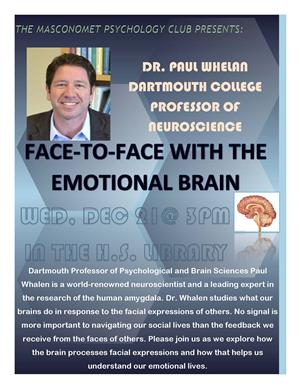 I guess what most impressed me by this college lecture at Masco yesterday, is the fact that our students get opportunities like this all the time, because we have faculty members who reach out to their professions and disciplines, who reach out to government and community groups, and who organize all kinds of learning activities to expose their students to real-world learning opportunities and insights into careers, college, and life.
Yesterday was just one of the many days I leave work at Masco and think on the way home-- "Wow, am I lucky or what to be a colleague of this caliber of faculty and staff?
As I count my blessings at the end of this calendar year, near the top of the list is the fact that I get to come to work every day in a place where there is a genuine love for learning-- where students come ready to learn and teachers come prepared to give their all to keep learning exciting, enjoyable, and real.
Resolution #1: In 2017, I will learn more about the current research on learning and the brain and apply that learning to my role at Masconomet.
Resolution #2: I will remember that each of us is always ready to experience a spark of joy in learning something new and each of us has the ability to light that spark in another.