11.06.19 Meeting Summary Notes
Posted by MSC Community Relations on 11/7/2019
"Our SIP [School Improvement Plan] is a snapshot into what we feel are the necessary steps to move Masco in the direction consistent with Vision 2025 — specifically with the Vision's acknowledgement that: student learning is highly interdisciplinary and students are connecting learning to the real world and real-world problem solving; all classrooms and curricula are Learner-centered and adults will strive to recognize each student's desire to find their place in the school and larger community."
— Introduction, HS School Improvement Plan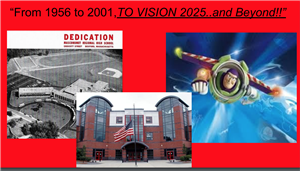 Highlights from the November 6th School Committee (SC) Meeting:
School Improvement Plans for both High School and Middle School were presented
Driving question for HS objectives: Where are our "unimagined spaces" (1) intellectually, (2) emotionally, (3) physically?
New Focus Goal Area introduced for MS, involving use of technology to achieve vision, with potential to introduce electives in coding and web-design.
Faculty Professional Development again put small groups of HS and MS staff from across disciplines together to create their "big picture" vision for future Masco graduates. Mr. Dillon reported that this collaborative process has felt new and inspiring for the faculty.
School highlights:
Community programs:
"Masconomet, an Introduction to our Highschool" - event for 8th-grade families will take place on Tues, Nov. 12th at 6:30pm in the auditorium.
TriTown Council hosted "Let's Talk About It" on 11/6/19 (TTC blog about it here)
TriTown SEPAC hosted "Understanding Dyslexia" on 10/28/19