Posted by MSC on 9/3/2020
"Everything is on the table if playing Fall season. All days of the week are options."
—John Daileanes, Athletic Director - about the possibility of holding practices and games on weekends this fall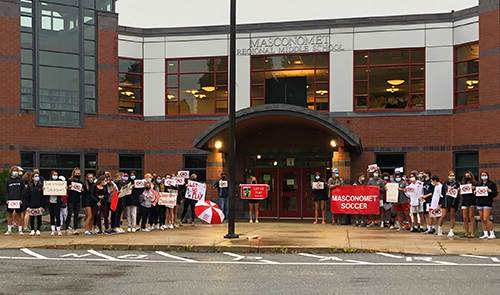 Meeting highlights:
Technical difficulties led to only the meeting's audio being live-streamed, with the meeting video/audio recorded (

all meeting recordings posted here

)

Dr. Harvey shared his

ReOpening Update

, including

this "welcome" video to the teachers by Student Council President Justin Crosby

. Dr. Harvey noted that about 70 support staff are working on campus currently, and teachers are working remotely until the results from last week's independent air-quality assessment are complete (this takes about two weeks).

After in-depth presentations and discussion, the committee voted to hold all Fall Sports in the Fall season

Holding some practices and games on weekends may help alleviate the issue of limited daylight hours after Nov. 1 and obtaining extra busses to comply to DESE's 30% capacity limit

It is unknown how many NEC teams will be available for Masco to play in the Fall, as other NEC schools have not yet decided between Fall vs Fall 2

Volleyball being an indoor sport may pose the greatest challenges, but for all sports the intent is to put safety first, and apply creative problem-solving to achieve play time for athletes

The committee formed a new Anti-Racism subcommittee that will begin meeting and giving regular reports to the school committee

Nicole Messih was introduced as our student SAB representative; she shared some highlights from student groups

Negotiations with the Masconomet Teachers' Union are ongoing, with an emphasis on assuring safety of the building for teachers to return. Masco's full time HVAC technician performed system upgrades, and

Masco commissioned an air quality report by an independent industrial hygienist. The union has agreed to teachers working in the building upon confirmation that the air is safe.

A Community Forum about the Remote Phase of ReOpening will be held Wednesday, September 9 at 7pm via zoom

This

two-question community survey

continues to be available where parents, students and staff can ask their most pressing questions
Further notes can be found in the Summary Notes* from the 09/02/2020 meeting. *These are not meeting minutes and not intended to be a transcription of the meeting.
District highlights:
Community resources:
NEXT SC Meeting:
We will hold a Community Forum on Wednesday September 9 at 7pm via zoom.
Our next regular School Committee meeting will be Wednesday, September 16 at 7pm
Meeting agendas, minutes, documents, and videos are posted on-line at: https://www.masconomet.org/domain/41