09.16.2020 Meeting Summary
Posted by MSC on 9/17/2020
"My overall vision for the year is a focus on social-emotional learning — building a culture of kindness with a focus on patience and resilience. We want students to learn from mistakes and grow."
—Dr. Phil McManus, Middle School Principal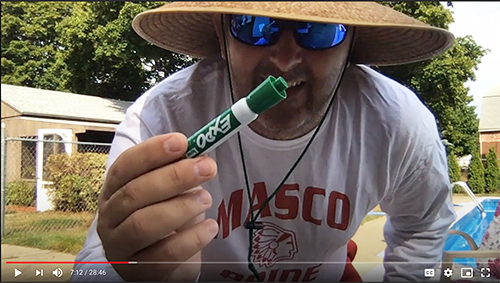 7th Grade Orientation video
Meeting highlights:
Carolyn Miller Chair remarks: Looking forward to school starting on Monday, September 21— Good luck to all the teachers and students!

Dr. Harvey shared his

ReOpening Update

. Highlights include:

12 days of faculty professional development on a variety of topics

"all hands-on deck" to begin remote learning

Supplies and equipment preparations, including 100 x 120 ft. tent outside the building

Masco seeks to hire 20 proctors based on numerous teacher requests for accommodations or leaves based on legitimate and legally applicable needs

Dr. McManus, our new Middle School principal (began in July 2020), presented his first

Middle School Principal Report

. Highlights include:

The

7th grade orientation video

and 8th grade welcome back video were emailed and are available on the

website

;

Drive-by materials pickup - including chromebooks and agendas (

see schedule

);

Installation of plexi-glass in office and desks in fieldhouse;

School vision focused on kindness, patience, resilience, and developing organizational skills

Volleyball, which was recently included in the Fall sports designated to play in the original Fall season, was moved to Fall 2 (Feb 22-April 25 competitive season). The unanimous decision was informed by recommendations from Athletic Director John Daileanes, Head Coach Mike Scammond, and Senior Captain Paige Richardson

Most NEC schools have also moved volleyball to Fall 2

Registration forms and payment keep the same deadline of September 18

Intend to hold some practices in the Fall

Funding to

initiate capital planning efforts

was approved

The school committee completed our annual superintendent evaluation, which will be posted in meeting minutes. Here is a brief

summary

Negotiations with the Masconomet Teachers' Union continue — described as "cautiously optimistic"

This

two-question community survey

continues to be available where parents, students and staff can ask their most pressing questions. Questions about the hybrid phase will contribute to our next community forum.
Further notes can be found in the Summary Notes* from the 09/16/2020 meeting. *These are not meeting minutes and not intended to be a transcription of the meeting.
District highlights:
Community resources:
TriTown Council

is a great place to find local resources and opportunities; Sign up for their newsletter and follow them on facebook, too!

SEPAC

is an excellent support resource for families. Follow them on facebook, too!

School Committee meetings

: Due to covid-19 limitations on in-person meetings, public comments must be submitted in writing to our Chair by noon the day of a meeting. Watch our meetings live or

recorded

. Presentations from Masco leaders are a great way to be in the loop. Email questions, comments or concerns to the committee Chair, Carolyn Miller, at

cmiller@masconomet.org
NEXT SC Meeting:
Our next regular School Committee meeting will be Wednesday, October 7 at 7pm.
Meeting agendas, minutes, documents, and videos are posted on-line at: https://www.masconomet.org/domain/41