Posted by MSC on 9/4/2021
"My hope as we embark on this year is that we all focus on hope and possibility, even amidst uncertainty or friction—to be able to strive toward our shared goals and make it a great year for our students."
—Zillie Bhuju, Masconomet School Committee Chair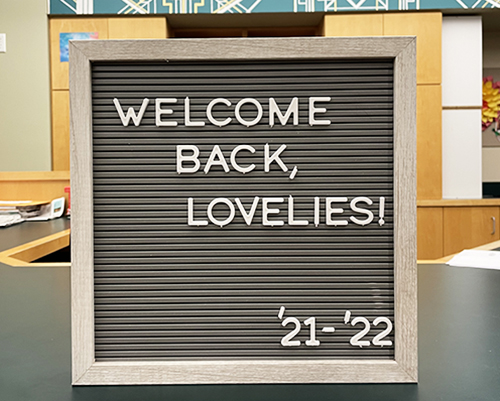 A small sign in the high school library is one of many ways staff are welcoming students back to a positive school environment
MEETING HIGHLIGHTS:
Committee Chair Zillie Bhuju welcomes everyone to the new school year

Negotiations Update:

Full statement from SC negotiations team in

Summary Notes from the 9.01.21 meeting

Teachers' CBA not settled; School Committee seeks assistance through mediation

Parties agree on concept of WIN block in schedule, but implementation requires contract settlement

Mike Harvey presented his

Superintendent's Report

Mask mandate indoors per DESE requirement at least through Oct. 1

Masks not required outdoors

No social distancing requirements

Covid-19 Protocols

Test and Stay Program coming soon

Drama Position is Unfilled

Bus schedules

Congratulations to art teacher Ursina Amsler

School Committee Protocols




Approved unanimously

School Committee Goals for 2021-2022




Approved unanimously with three small changes reflected in linked doc

Budget and District Capital Investment (DCI) w/ liaison to town finance committees/gov't

Policy

Community Relations w/liaisons to SEPAC, SHAC, COAs, district advisory groups, community-based "umbrella" orgs (TTC, MEF, PAC)

Negotiations

Anti-Racism

Membership adjustments reflected in linked doc
Further notes can be found in the Summary Notes* from the 9/01/21 meeting. *These are not meeting minutes and not intended to be a transcription of the meeting.
MASCO RESOURCES:
COMMUNITY RESOURCES:
NEXT SC Meeting:
Our next scheduled School Committee meeting will be Wed, Oct. 6 at 7pm. This meeting will be held in person. Please refer to the "Public Meetings" page on the Masconomet Website for upcoming meetings. Meeting agendas, minutes, documents, and videos are also posted on-line at: https://www.masconomet.org/domain/41. Email any questions, comments or concerns to our committee chair Zillie Bhuju at zbhuju@masconomet.org.