Posted by MSC on 10/8/2021
"I make my way around this building, and I see that 'community' is already here - I don't think it ever left - but I think we need to start celebrating it again" - HS Principal Carabastos speaking about "building community back"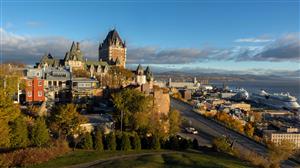 Image: Quebec City, where the World Language department is planning a field trip for May 2022. Source: Unsplash.
Following is a summary of the Masconomet School Committee meeting that took place on Wednesday, October 6, 2021. The agenda for the meeting is available on the Masco website. Please note that this is not a formal record of this meeting. Official minutes will be posted (at the same link as above) after they have been drafted and approved.
Executive Session

. The meeting began with an Executive Session, during which the Committee met privately to discuss a) bargaining with the Masconomet Teachers Association and b) bargaining with a non-union administrator, Superintendent Mike Harvey.
Remarks from the Chair

. Chairperson Zillie Bhuju thanked Bonnie Thornborough, who recently stepped down from the Committee, for her contributions. "Bonnie's decision to step down was very difficult and involved a number of personal reasons, but I want to take a moment to acknowledge how dedicated she was to this role and thank her for that." Zillie welcomed newly appointed Boxford member Joe McLean and expressed appreciation to members for volunteering themselves in spite of the unique challenges of such unprecedented times, adding "I hope that the 'job' continues to return to a somewhat more 'normal' experience … and that our community continues to focus on healing and constructive engagement. ... I am confident that we will carry on with the spirit that Bonnie embodied to always hold our

students at the center

in our work." ~

Zillie also noted this was our first opportunity to publicly welcome the new High School principal to Masco as a committee: "Dr. Carabatsos, we are so happy that you are now part of the Masco family!"
Comments from the audience

. Several audience members spoke, including three Masconomet teachers and one member of the public that all voiced support for our teachers and staff and a desire to see the contract settled. Another asked questions related to the agenda.
MOU with the Masconomet Teachers Association

. To address the 2021-2022 school year, the Committee and the Association worked together to draft a Memorandum of Understanding (MOU). The School Committee ratified the amendment, and we expect that the Association will do the same. The School Committee's public statement on the status of negotiations for a new contract is in

Summary Notes from the 9.01.21 meeting

. We continue to invite the Union to join the SC at the table together with a mediator so that we can settle a fair contract for our valued teachers and staff. The Masconomet Teachers Association agreement can be found on the

Massachusetts Department of Elementary and Secondary Education website

.
Student Advisory Board update.

Student Advisory Board representatives serve as

ex officio

members of the School Committee. Junior Raquel Rave spoke on behalf of the Board. She reported that students are happy to be engaged in school, clubs, and sports again. She also reported that the Advisory Board believes that students and teachers would like to see the WIN block reinstated.
Quebec field trip

. Mr. Ryan Quadros of the World Language department reviewed

plans

for a field trip to Quebec in May for freshman and sophomores studying French language. The School Committee voted unanimously to approve the plans for this trip.
Vision 2025 Showcase: World Language

. The School Committee's goals for this year include elevating activities happening at Masco that support 21

st

century skill development for our students. World Language department chair Dr. Jeanne O'Hearn was the inaugural guest speaker. She shared the

World Language Department Vision 2025

, including a new Seal of Biliteracy that seniors will be eligible to earn starting in 2023. Two seniors from AP Spanish V joined Dr. O'Hearn to talk about their independent study programs. Lauren Calabrese has created books for English-language learners that she donated to the Lawrence Public Schools. Ada Yu designed Bilingual Essential Phrases and Questions sheets for first responders and EMTs; you can read more about these at

www.emslangbridge.com

.
High School Principal's Report

. Dr. Carabatsos reported that the first month of school has gone well. Her focus has been on making sure both students and adults feel supported as they return to in-person learning and teaching. Student events, including a Halloween Dance, Homecoming Spirit Week, and student performances will take place. There will be two performing arts productions at the high school this year, although the first production will be delayed as recruiting continues for drama: a new 0.6 FTE instructor and extracurricular hires. The full report is available

here

.
Student Clubs

. Students presented

proposals for new extracurricular clubs

. Henry Liu made a pitch for an Economics Club; Tracy Weener spoke about the value of a Poetry Club, and Aidan Venckus, Dorian Floreatal, and Pascale Moon proposed a Rocket Club. The School Committee voted unanimously to approve all of the proposals. Thank you to Mr. Walsh, Mr. Treven, and Mr. Quadros for serving as faculty advisors.
Superintendent's Report

. Dr. Michael Harvey presented his

Report to the School Committee

.

The report contains a lot of detail about COVID-19 case rates, the Symptomatic Testing Program, the Test and Stay Program, and current conditions around mask requirements. We encourage all families to read it. Dr. Harvey reiterated that the simplest way to remain in school is to get vaccinated. Families who have not done so should

complete the testing consent form

.
Massachusetts Association of School Committees (MASC) annual business meeting delegate and resolutions

. The Committee voted to ratify

eight of the nine resolutions put forward by MASC

. A majority of the committee voted to abstain from Resolution 9: Prohibiting the Use of Native American Mascots. Those who voted to abstain cited the ongoing conversation about this in the Masco community. Our Anti-Racism Subcommittee expects to pick up that discussion on behalf of the committee. The School Committee appointed Zillie Bhuju as its delegate to the

MASC annual business meeting

.
School Committee Protocols

. The Committee signed the

protocols

that were agreed to at our last meeting
Superintendent's FY22 Salary.

The Committee voted unanimously to approve a 2% increase for Dr. Michael Harvey for FY22. This is the only salary increase that requires a public vote, unlike all other personnel contracts that include annual salary increases.
MASCO RESOURCES:
Use the Masco App

to consolidate Masco messages in your Activity Stream. Emails, blog posts, resources, as well as student grade updates
COMMUNITY RESOURCES:
NEXT SC Meeting:
Our next scheduled School Committee meeting will be Wednesday, Oct. 20 at 7pm. This meeting will be held in person. Please refer to the "Public Meetings" page on the Masconomet Website for upcoming meetings. Meeting agendas, minutes, documents, and videos are also posted at: https://www.masconomet.org/domain/41. Email any questions, comments or concerns to our committee chair Zillie Bhuju at zbhuju@masconomet.org.