Posted by MSC on 11/19/2021
"I have noticed a lot of positive energy in our district! We've had respectful interactions this year during our meetings - It seems that generally at Masco, we put respect for our shared community first - Our children are watching and they learn from this - it makes a difference." - Zillie Bhuju, SC Chair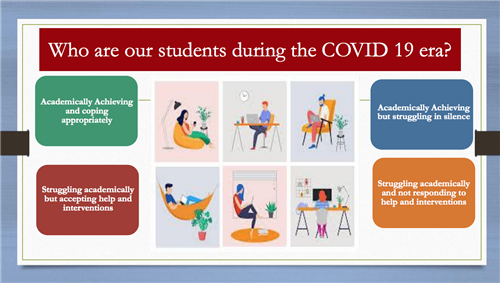 *These are not meeting minutes and are not intended to be a transcription of the meeting.
Remarks from the Chair

. Zillie Bhuju spoke about an issue that was brought to the School Committee's attention by an individual regarding members and administrators who attended the recent Massachusetts Associationof School Committees/ Massachusetts Association of School Superintendents conference. The person expressed concern that Masconomet representatives did not wear masks at the event, citing a protocol found online that included a mask requirement. MASC has shared a

public apology

because their protocol for this optional event, which took place in a privately owned venue that does not require vaccinated adults to wear masks, was unclear. Our schools, on the other hand, are public buildings at which attendance is mandatory. In these buildings, we follow the most up to date rules and guidelines, which currently include wearing a mask. Finally, Zillie invited anyone who has a specific question or concern related to the School Committee to contact us directly by email or phone, or attend one of our public meetings. She suggested that calling out individual committee members by name on social media is not productive, sets a bad example for our students, and reflects poorly on our community.
Comments from the Audience.

There were no comments from the audience.
Masconomet Teachers Union Negotiations

. The School Committee and the Masconomet Teachers Union have agreed on dates to meet with the mediator to continue contract discussions. The first meeting will be Monday, November 22.
Student Advisory Board Update

. Senior class representative Lindsey Byman spoke about Spirit Week, the Senior Halloween Dance, and the Senior Snow Ball. She reported that athletes are enjoying themselves and looking forward to the winter season. She also mentioned that some students would prefer to have mask breaks indoors as the weather begins to get colder. Dr. Harvey spoke briefly about the rationale for the current system and recommended that the Student Advisory Board approach Dr. Carabatsos to discuss their ideas.
Middle School Principal's Report

. Dr. Phil McManus reported that students have settled in well and that "the overall atmosphere and climate in the building is exciting and positive." He said that priorities include social emotional learning and closing the learning gap that resulted from the pandemic. Dr. Manus said that his team is tracking this, especially around math and writing, and that faculty members and specialists are providing extra help in these areas. There was more detailed discussion about tracking academic progress as part of the Student Wellness Report (see below). The Middle School community completed a coat drive and a Thanksgiving food drive, Project Adventure team-building, and a Halloween costume competition. Dr. McManus's full report is available

here

.
Superintendent's Update.

Mike Harvey made a statement about the recent accusations of racist and sexist language made against athletes in local schools. This statement and his full report are available

here

. In his regular COVID update, he reported that there have been 31 COVID cases in the District since the beginning of the school year. The vaccination rate as of November 16, 2021 is 78.05%. Dr. Harvey also announced that Assistant Superintendent of Student Services Patty Bullard will be retiring as of August 31, 2022.
Student Wellness Report

. Assistant Superintendent of Student Services Patty Bullard and Dr. Irene Duros presented a detailed report on student wellness at Masconomet. It outlines the current state of student wellness as well as the social, emotional, mental health, and educational supports available to students via the Student Support Center and the Academic Success Center. It also details special programs taking place in the schools over the next several months. We strongly encourage all families of Masconomet students to read the report, which is available

here

, and listen to the recorded presentation for the many details shared. Families should

reach out to the Student Services team if your student would benefit from any of these support services

. You can reach Student Services by phone at 978-887-2323.
District Enrollment Report

. Assistant Superintendent Jeff Sands presented the

enrollment report

, compiled each year as of October 1st. This report is important because it helps to determine the amount of the operating budget each District member town is required to contribute for the following financial year. Overall enrollment is down 2% from last year, continuing a five-year state-wide trend.
Census Data and School Committee Membership Distribution

. Dr. Harvey reported that based on census data, the composition of the School Committee can remain unchanged (three representatives from Middleton, four from Topsfield, and four from Boxford. The census data are available

here

. The relevant section of the Masconomet Regional Agreement can be found

here

.
Massachusetts Association of School Committees Annual Conference

. Zillie Bhuju, Tasha Cooper, Carolyn Miller, and Superintendent Mike Harvey represented Masconomet at this year's meeting, which took place in Hyannis over the first weekend in November. All of the resolutions passed.
Community Relations Subcommittee.

The Community Relations subcommittee began a monthly open community discussion at their second meeting of the school November 10th. We had a good turnout and two community members raised topics for discussion. We are inviting representatives of our Councils on Aging to attend one of our upcoming meetings.
Budget Subcommittee.

The Budget Subcommittee reviewed the upcoming budget calendar. They will be meeting with academic department heads and with representatives from each town's governments. They also discussed athletic fees, and a majority would like to reduce the burden on families in a feasible and sustainable manner. The School Committee recognizes that our current fees are not in line with comparable districts. The administration intends to consider options to address this in their budget recommendation for FY22. We can support the physical and mental health of our students by encouraging them to participate in sports and clubs.
Small Town Heroes Awards.

​The Student Advisory Board has confirmed that it wants to run this popular program again next spring. We are grateful for the SAB's hard work on this.
Masconomet Education Foundation.

We accepted a generous MEF donation of 3D Printers, Laser Cutter, Runone Electrophoresis Gel Boxes, Collaboration Monitors, Completion of an outdoor classroom for the 7th grade life science team, and RoboMaster TT Drones. We are thankful for the MEF's support!
Upcoming Meetings:
Please refer to the "Public Meetings" page on the Masconomet Website for a list of upcoming meetings and agendas.