Posted by MSC on 6/25/2021
"The intent of this policy is to improve support for an environment where people's unique identities and differences are an appreciated part of community, learning, and problem-solving. Working together to actively improve our systems improves the quality of life for all diverse peoples."
—Tasha Cooper, School Committee member, about the proposed policy on Inclusion, Diversity, Equity and Anti-racism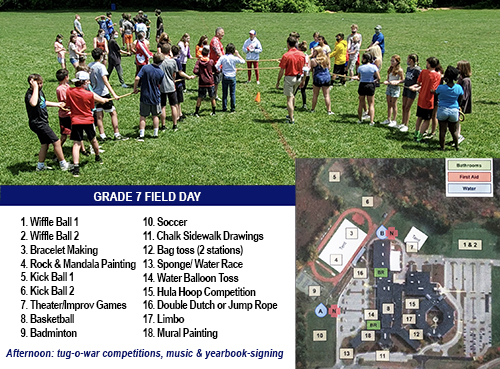 Middle School students enjoyed Field Days focused on fun activities, community-building, and simply spending social time together.
MEETING HIGHLIGHTS:
Carolyn Miller congratulated 8th graders, all students on finishing this year; welcomed newest School Committee member, Dominic Cassamassina from Middleton; welcomed the public back to in-person meeting attendance

Comments from the Audience addressed the proposed policy on antiracism, teachers' union negotiations, and summer programs for learning loss

Student SAB Olivia Richards reported from the students:

Proud of accomplishments this year, such as Small Town Hero Awards

Request for large projects and tests to be spread throughout the term to reduce stress at the end of the year

Glad to hear next year will be "back to normal" and hope some new things from this year continue, such as lunch and mental breaks outside

Gratitude for listening to the students this year

Phil McManus presented a

Middle School Principal Report

Field Days

8th-Grade Moving Up Ceremony

SEL support, community-building, team unity

Mike Harvey presented a report, also published in his

Superintendent Blog

DESE guidance on

Acceleration Roadmap

Credit Recovery Summer School and Extended School Year program

Developing district goals and plans to facilitate acceleration, including relationship-building, mindfulness, and Project Adventure for middle school

Policy: Inclusion, Diversity, Equity and Anti-racism

- second reading

Approved in a majority vote of 9 yes, 2 no

Second vote required since vote was not unanimous, to be held at meeting via zoom in July

Policy supports Inclusion, Diversity, Equity, and Anti-racism in Masco's curriculum, experiences, and professional development

Driven by several student presentations throughout the year

Some edits made to improve policy language based on thoughtful consideration of feedback shared in emails, comments, and during 6/14 subcommittee meeting

Negotiations Subcommittee

SC believes negotiations are at an impasse and has requested a mediator

SC values teachers and aims for all parties to have what they need for success

SC priorities are:

flexibility to allow for daily schedule improvements, including WIN block

structured Professional Development time

acknowledgement of contract costs relative to tight town budgets

more detail in summary notes
Further notes can be found in the Summary Notes* from the 6/23/2021 meeting. *These are not meeting minutes and not intended to be a transcription of the meeting.
MASCO RESOURCES:
DISTRICT HIGHLIGHTS:
COMMUNITY RESOURCES:
NEXT SC Meeting:
Our next School Committee meeting will be Wed, July 14 at 7pm. This meeting will be held via zoom. PLEASE NOTE: FOR PUBLIC COMMENTS: members of the public may make a brief statement or ask a question during the "Comments from the Audience" section of the agenda. The zoom link in the agenda is the method for watching the live meeting and making a public comment; recorded video will be posted.

Meeting agendas, minutes, documents, and videos are posted on-line at: https://www.masconomet.org/domain/41. Email any questions, comments or concerns to our committee chair Carolyn Miller at cmiller@masconomet.org.